CH PACH Coedwig's Dance With Me at Torlan UD RE PT MXP3 MXPB MJP3 MJPB PAX XFP CGC TDI
Ch. Coedwig's Carbon Blue x Yardican IFly
August 28th, 2010
Bred by: Lori Frost and Kim Shira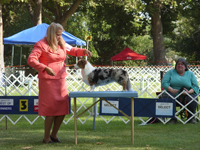 Even before she was a year old, Tesla was making splashes in both the conformation and performance rings. Tesla finished her RN title in one weekend in early July with scores in the high 90s and straight first place finishes. The next weekend she got the first two legs of her RA title again with scores in the very high 90s. Shortly after she turned 12 months, Tesla got her CGC and TDI certification, passing with flying colors. She then took a vacation to the west coast with handler Angelia Hall, who has shown her to 11 points (one major). In late November I went to visit her and together we finished her RA title with another 1st place, and received the first leg of her CD title.

Back in Kansas in 2012, handler Linda Williams showed Tess to a single point in April, and then a 4-pt major to finish her Championship in early September. Tess finished the final leg of her RE with a perfect 100, retiring her from rally competition. In early July 2012 she got two legs of her CDX, and then finished her CDX in August with a first place and 195.5, just before her 2nd birthday. She shows a lot of promise in obedience and everyone comments on what a good working dog she is.

Tess flew through her agility titles going from Novice to Excellent B without a single NQ. As of mid-September 2012, Tess has 4 QQ and 292 points, 7 MXP legs and finished her MJP title, and as a short term goal, we are hoping to qualify for the 2013 National Agility Championship in Tulsa, OK! As a long-term goal, the sky is the limit!
We are currently trialing in formal obedience and agility, hoping to work towards an OTCH and/or PACH, and continuing therapy dog visits. She is a very happy, biddable, intelligent dog.

Tesla is beautiful inside and out. OFA rated her hips - Good, and elbows - Normal. DM and Fluff carrier. CERF Clear. Other health results pending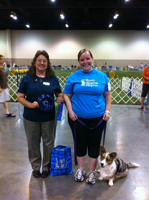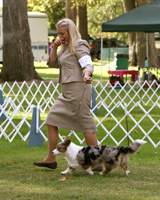 **Click On Pictures to Enlarge!**
Copyright © 2011 Torlan Cardigan Welsh Corgis, All Rights Reserved. Web Design by Settican Designs.